Click & Collect Service
Step 1
On your favourite item's the product page, click the button 'Check store stock'.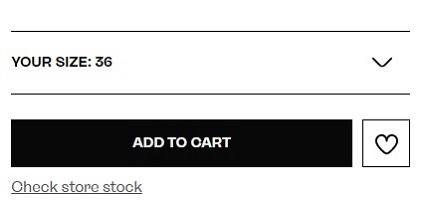 Step 2
You will see the number of items available for your size per store. If you see the 'Reserve' button next to this store, you can buy that item from the store online.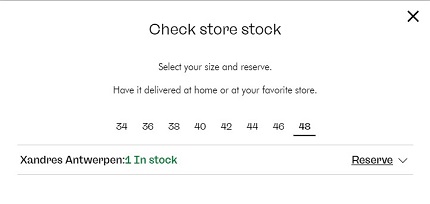 Step 3
When you click on the 'Reserve' button, you will see a form with the product you wish to order already filled in. Check that it is the correct size and colour. If not, use the 'go back' button to choose the correct combination on the product page.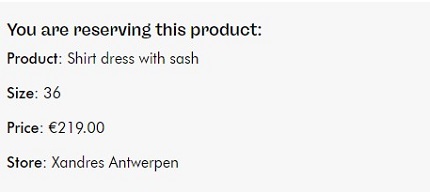 Step 4
Choose store pick-up or home delivery. You can only choose a store where the item is in stock. Items are not transferred between stores.
If you choose home delivery, delivery costs will be charged for orders under € 150. For information about our delivery costs, click here.
Step 5
Complete the form and click on 'Reserve'. If you already have a Xandres account, use the email address for this account. You will then save a customer discount with your order.
We will send you confirmation of your order by email. If you do not get this, be sure to check your spam folder.
Step 6
You will receive a second email from Xandres containing a payment link after a maximum of 6 working hours. The product will only be reserved for you once you have made the payment via this payment link.
Step 7
Once we have received your payment, the shop will prepare your parcel for pick-up or send it to you via bpost.
Some specific conditions apply to this Click & Collect service:
Xandres will send you a payment link within 6 working hours of you submitting your Click & Collect form. The chosen product will only be reserved for you after we receive confirmation of your payment. Please note, if you order at night or on Sunday, you will only receive an email with the payment link the next working day. During the busy sales or end-of-year period, processing may take a little longer.
A product you ordered through Click & Collect might have been bought by another customer. In that case, we will contact you personally and refund any payment made.
You can only order 1 product at a time via Click & Collect. If you wish to order a second product or a different size, you must complete the form a second time.
If you opt for home delivery, you can expect your package within 2 to 4 working days after payment. Take into account possible delays in the busy sales and end-of-year period. As soon as the package has left us, you will receive an e-mail from bpost.
It is not currently possible to use your already saved Xandres customer discount for a 'Click & Collect' order – your purchase will result in a new customer discount provided that the email address you use to place your Click & Collect order is also the e-mail address for your existing Xandres account.
You cannot pay for a Click & Collect order with a Xandres gift voucher.
Click & Collect is only possible in the country of the store where you are ordering. This means that Belgian stores will only serve Belgian customers and the same goes for Dutch customers.
You can return a product that you bought through our Click & Collect service if you do not like it or if it doesn't fit. You will find a return label in the box.
---
---